Transferless Continuous Conveyors
Prevent Product Damage
Ensure the integrity of your product with our sanitary food conveyor systems and continuous conveyors. SideDrive Conveyor Co. helps protect product quality with a unique, plastic modular belting system that eliminates transfers and creates a smooth and effortless motion.
Our continuous conveyors ensure safe food handling and transport, reduce product spills and breaks, and eliminate product logjams.
Sanitary, Long-Run Food Conveyor Systems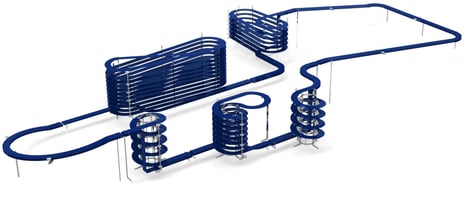 Guaranteed to protect your product while improving your productivity, our transferless long-run and continuous conveyors meet the highest sanitary requirements. Our conveyors are designed to protect both your product and operations.
USDA-compliant plastic, modular belting stands-up to repeated cleaning and is ideal for high-pressure washdown environments
Modular belting and sprockets ensure easy cleaning with minimal harborage areas, all while keeping product even and stable during transport
Side drive, edge-driven technology from Intralox creates an open, accessible design that reduces contamination areas
All-plastic construction eliminates any possible contamination from metal shavings or lubrication
Completely Modular and Flexible
Continuous Conveyors
The edge-driven belting technology from Intralox keeps the belt in motion throughout with even tension, making it ideal for long-run and continuous conveyors. Reliable transport is guaranteed with a modular design and smooth, even motion that helps reduce spills, breaks and more.
Improves product quality and consistency by minimizing transfers
Reduces product loss by up to 80% to optimize yield
Flexible design allows for multiple incline, decline, radius and straight conveyors combined into a single, seamless run—all without transfers
Intralox Technology Drives Continuous Conveyor Design
A completely configurable transferless and continuous conveyor system is possible thanks to Intralox's plastic, modular belting system. This, combined with its side drive technology, create the ultimate flexibility for long-run and continuous conveyors that require turns, curves or inclines.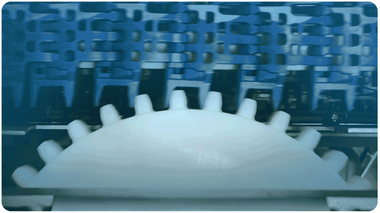 Less drives and minimal motors required, allowing room for endless configurations and elevation changes
Smooth yet efficient transport with strategically-placed sprockets along the belt edge keep the it in motion with a minimal number of motors
Increased belt life due to lighter weight
Contact us to discuss how we can help design and integrate a sanitary conveyor solution that works for you.
How Can SideDrive Conveyor
Streamline Your Production Line?