Effortlessly Cool, Cure and Proof Products
With Sanitary Conveyor Systems
Optimize your operations and streamline production with configurable and modular sanitary spiral cooling conveyors and proofing conveyor systems from SideDrive Conveyor Co.
Our spiral, straight or curved conveyor systems cool, cure and proof products all while moving your product automatically on and above the plant floor. Increase efficiencies and eliminate manual handling with fast, flexible and reliable sanitary conveyors that add time to production according to your application.
Sanitary Spiral Cooling Conveyors Save Space and Add Time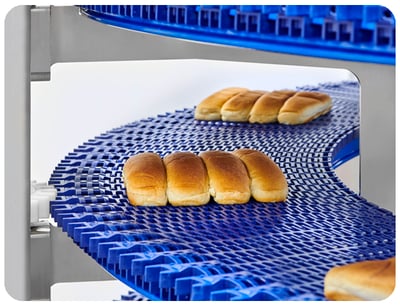 The configuration possibilities are endless and completely flexible with SideDrive's spiral cooling conveyors. Our spiral conveyor systems elevate and lowerate products gently and efficiently while adding needed time to production processes.
Fast, efficient transport adaptable to any plant layout—up and down between floors or levels, or over aisles
Automatically move product and eliminate manual transport to and from various production stages
Small footprint with edge-driven technology from Intralox saves space compared to direct drive systems
Drumless, or cageless, design minimizes harborage areas for sanitary conditions
Proofing Conveyor Systems

Help Keep Operations Safe

Guaranteed to protect your product and improve productivity, our proofing conveyor systems meet the highest sanitary requirements. Continuous, long-run transferless conveyors help reduce product spills, breaks and back-ups with smooth, effortless transport.
Plastic belting ensures easy cleaning and is ideal for high-pressure washdown environments
Modular belt design and side drive, edge-driven technology from Intralox ensures an even, continuous motion and transferless runs
No risk of contamination with all-plastic construction and an open, accessible design for easy maintenance
Cool, Cure and Proof Conveyor Solutions for
Any Application
Our sanitary spiral cooling conveyors and proofing conveyor systems not only offer the ultimate flexibility when it comes to configuration, but they are ideal for virtually any application. As the authority in side-drive belting, we have a conveyor solution for your specific needs.
Our food-safe conveyors accommodate a variety of applications, including but not limited to: