Reliable, Sanitary Transport With
Spiral Conveyors
Get your product where it needs to go quickly and safely with SideDrive Conveyor Co.'s spiral conveyors and vertical conveyor systems.
Whether it's moving products up one floor or down to another production stage, our plastic, modular vertical conveyor systems accommodate a wide variety of applications. Our spiral conveyor and vertical conveyor systems offer the ultimate flexibility, adapting to your plant and manufacturing needs.
Vertical Conveyor Systems Offer Endless Configurations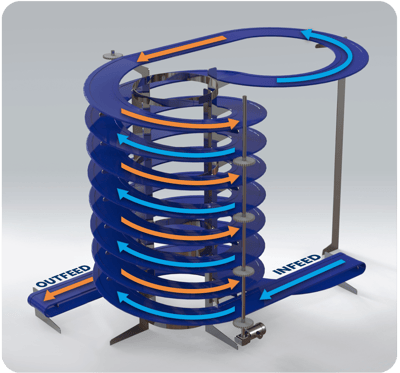 The configuration possibilities are endless with SideDrive's vertical conveyor systems. Inclines, declines and helical radius changes are no problem for our spiral conveyors and vertical conveyor systems. Our modular design provides the flexibility to ramp-up or scale-down production at any time.
Fast, efficient transport up and down between floors or levels, or over aisles

Smooth, quick movement from stages—into a freezer from an oven

and more

Spiral and flat, incline conveyor solutions available with continuous motion and smooth, reliable transfers
Spiral Conveyors

Bring More than Just Space Savings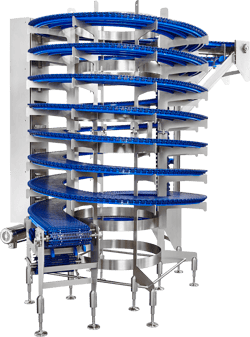 SideDrive's sanitary spiral conveyors boast a small footprint thanks to a drumless, or cageless, design that takes space requirements out of the equation when it comes to turns and curves. This not only saves valuable space on the plant floor but also requires less materials and moving parts, keeping initial costs and total cost of ownership down to a minimum.
Side drive, edge-driven technology from Intralox allows for minimal drive needs for turns and curves, whether going up or down
Drumless design ensures full sanitary conditions with less harborage areas
Open, accessible belting and drive systems keeps maintenance easy and simple
Saves space and costs by more than a third compared to direct drive systems
Vertical Conveyor Systems Ensure Smooth, Safe Transport
Our vertical conveyor systems operate smoothly and safely. Offering the ultimate flexibility where you need it most, our spiral and vertical conveyor systems adapt to a variety of configurations and heights.
Drumless spiral conveyor design is faster than traditional friction and positive drive conveyor systems
Sprockets, combined with one or more drive motors, allow for continuous belt motion
Modular belting and side-drive technology create a smooth transport, keeping product even and stable
Our edge-driven sanitary conveyor solutions are available for several applications, whether you need to get product up, down, across your plant, or need a time buffer during operation:
Contact us to discuss how we can help design and integrate a sanitary conveyor solution that works for you.
How Can SideDrive Conveyor
Streamline Your Production Line?