Sanitary conveyors
keep meat, poultry and seafood safe
Meat, poultry and seafood processors

are among the most strictly regulated food processors in the United States.
According to the North American Meat Institute (NAMI), "As an industry that sells nutritious food to more than 95 percent of Americans, meat and poultry companies place a high priority on ensuring the security of their food facilities and supply (...) and recognize they have an enormous responsibility in providing safe and wholesome products to millions of Americans."* SideDrive conveyors offer a robust solution for helping ensure meat, poultry and seafood processors are able to keep their products safe.
Source: *NAMI. Food Defense in the Meat and Poultry Industry Fact Sheet. North American Meat Institute.
Customized conveyor configurations

optimize your protein production
One size does not fit all when it comes to meat, poultry and seafood processing conveyors. Modular by design, SideDrive's unique conveyor configurations allow you to optimize your protein production space based on your individual needs. Whether you need to retrofit an existing configuration or build one from scratch, SideDrive can design and configure a custom conveying solution that you've only dreamt of, until now. The possibilities are endless!
Applications for

versatile meat, poultry and seafood conveyors
Our sanitary protein conveyors are perfect for products such as:
Raw foods such as beef patties, pork chops, cuts of poultry, and pieces of fish

Cooked products such as chicken, meatballs and hot dogs

Primary packaged products such as trays of ground meat, extruded plant-based protein, or thermoformed chicken cutlets and fish filets

Secondary packaged products such as cartons of fish sticks, rigid containers of lunch meat and seafood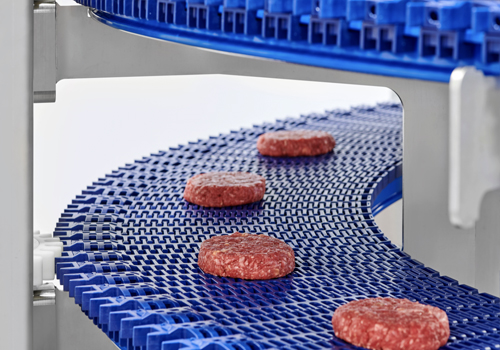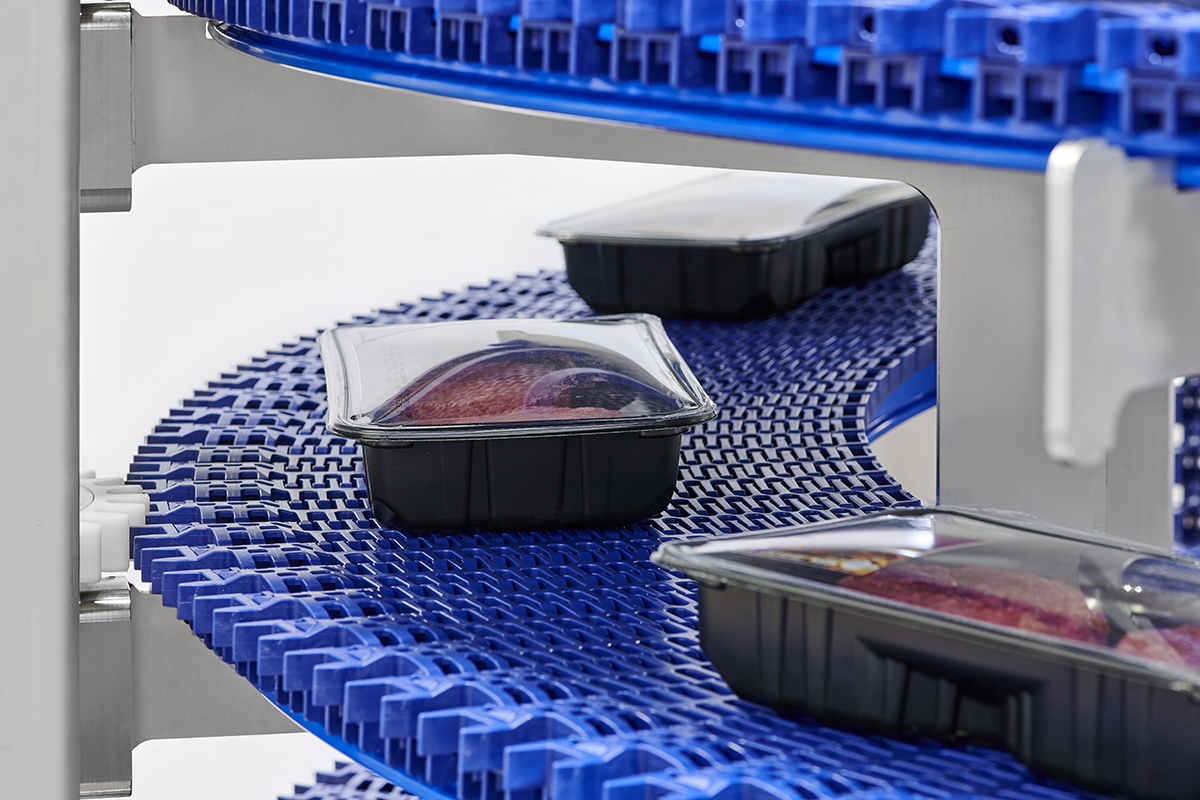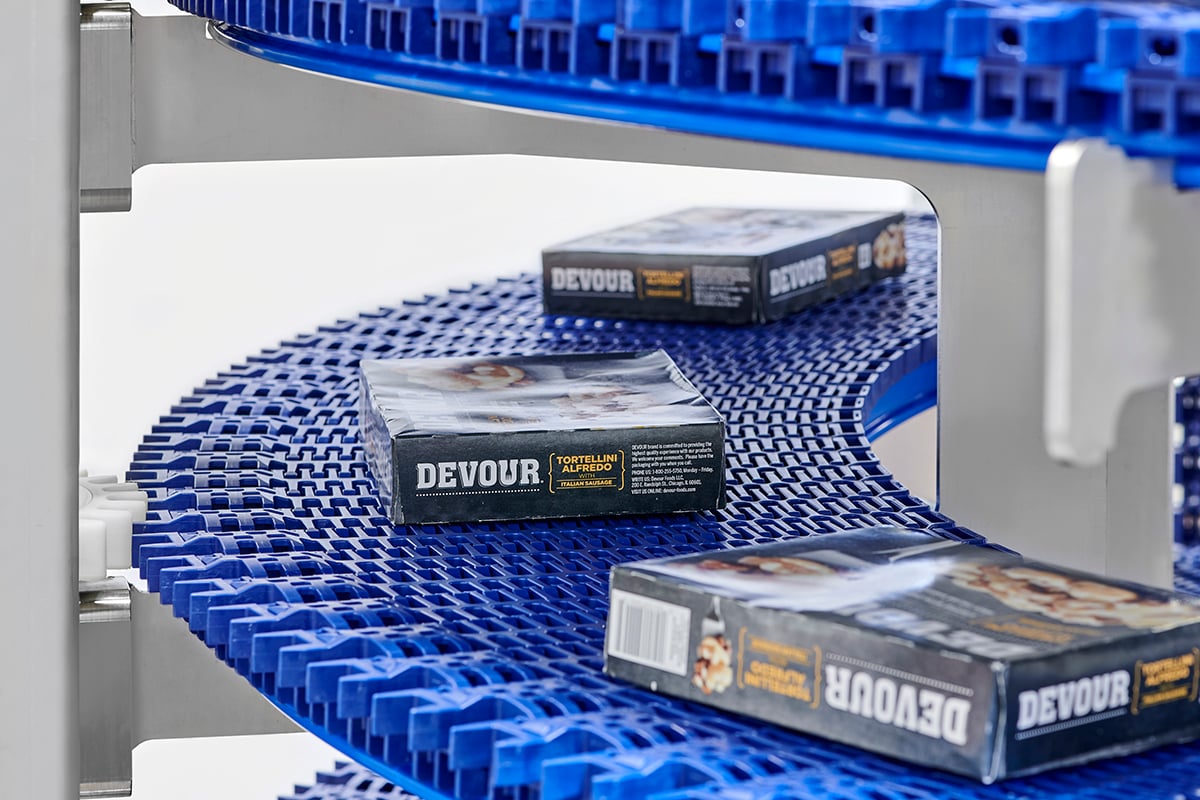 Protect your products

from adulteration
SideDrive conveyors are complementary to Hazard Analysis Critical Control Point (HACCP) food safety systems that are required under the guidance of the U.S. Food and Drug Administration (FDA) and the U.S. Department of Agriculture (USDA) for meat, poultry and seafood processors.
Meat, poultry and seafood conveyors made with food-safe materials protect your product from contamination. Since the gentle motion of the side-drive edge-driven conveyor belting keeps your products from moving around, transferless and spiral conveyors prevent product loss while safely handling meat, poultry and seafood. Additionally, plastic belting prevents damage or marks on meat, poultry and seafood products caused by its rigid metal counterpart and helps reduce product loss due to adhesion.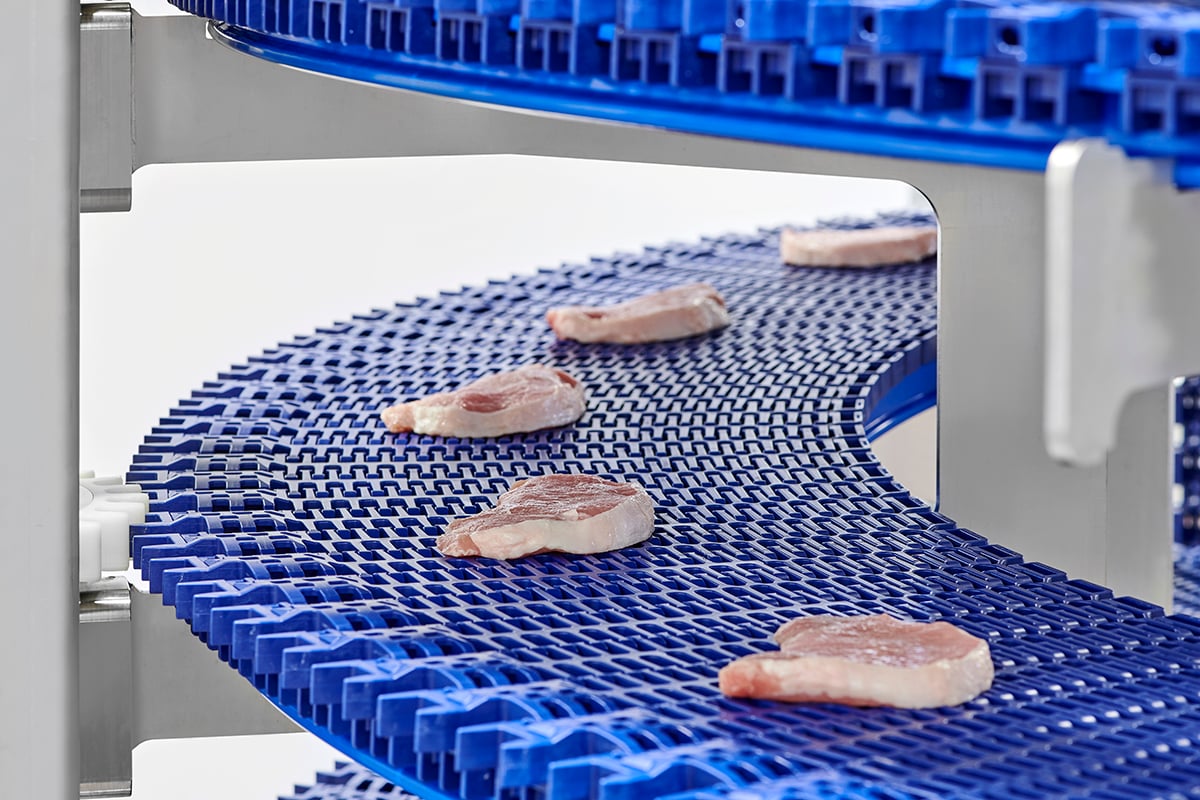 Raw Products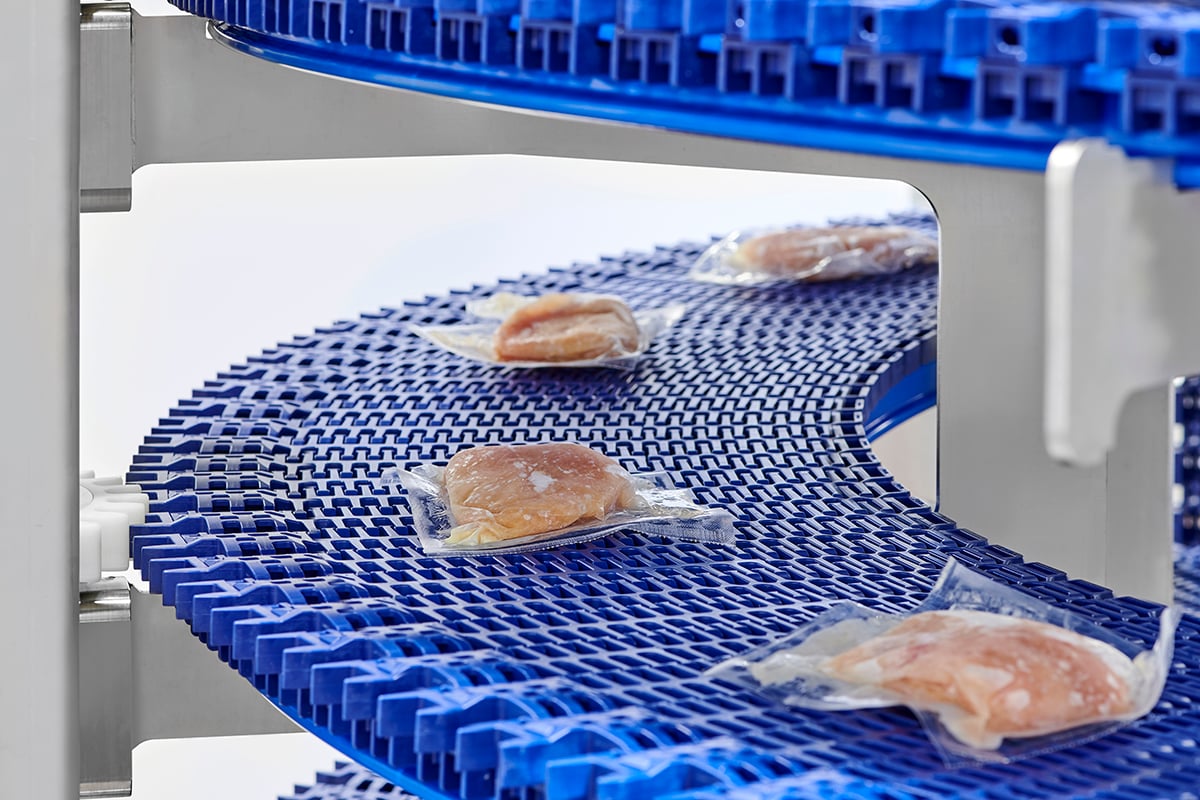 Primary Packages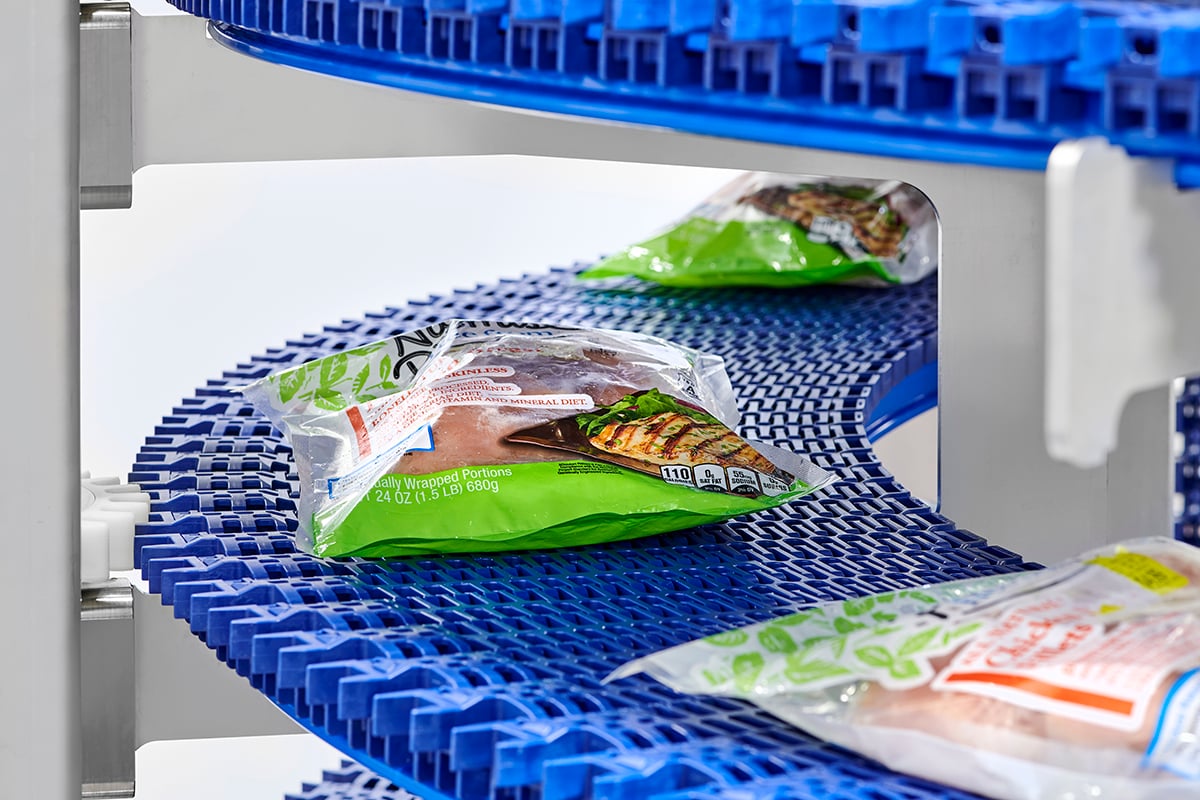 Secondary Packages
Sanitation made simple

with SideDrive's sanitary conveyors
As a Delphi study conducted by the FDA study suggests, "poor plant and equipment sanitation" are top-rated food safety issues among meat and poultry processors.* SideDrive conveyors are hygienically designed with food safety and cleanability as top priorities.
Since cleanability is essential to meat, poultry and seafood conveyors, the small footprint of SideDrive spiral conveyors is beneficial for easy accessibility, cleaning and sanitation. Hygienic features and plastic belting make washdown more effective. These features include:
Food-safe materials

Open, drumless design

Edge-driven belt

Sloped surfaces for easy run-off

Cantilevered, stainless, open-frame design

Plate frame structure easy for cleaning

Hygienic feet

Continuous welds to prevent harborage of bacteria

Welded standoffs that separate parallel surfaces

Solid UHMW wearstrips
Source: *U.S. FDA. Good Manufacturing Practices for the 21st Century for Food Processing (2004 Study) Section 4: Common Food Safety Problems in the U.S. Food Processing Industry. United States Food and Drug Administration.