Flexible Conveyor Systems
Directly Handle Food Products
Guaranteed to protect your product while improving your productivity, our washdown conveyors meet the highest sanitary requirements for direct food contact. Our food-safe conveyor systems handle a wide variety of products, including raw proteins, baked goods and frozen foods.
Whether you're transporting produce, pizza, frosted cupcakes or other delicate pastries, SideDrive Conveyor's modular and sanitary conveyor solutions do it safely and efficiently.
Food Safe Conveyors for Raw Proteins
Our sanitary conveyor systems ensure safe, yet gentle, handling and transport for raw or unpackaged products. Designed with sanitation in mind, our all-plastic food-safe conveyor is ideal for direct food contact.
Side drive technology from Intralox quickly and reliably moves product from processing to primary packaging or other production phases

All plastic, USDA-approved belting is safe for direct food contact, including poultry, meat or seafood, while standing up to repeated, high-pressure washdowns

Minimal harborage points reduce contamination areas and open design keeps cleaning easy

Eliminates risk of contamination with no metal parts or lubrication needed
Food Conveyor Systems
Gently Move Baked Goods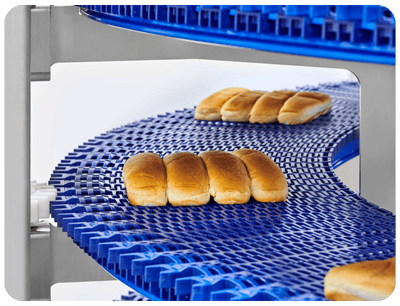 Our food-safe conveyor systems quickly and gently transport delicate baked goods, including pastries, pies and cakes, through your production line. With a smooth and reliable motion, our conveyors protect your bakery product all while keeping your production line moving.
Side-drive, edge-driven technology ensures smooth transport and improves product quality
Ideal for racetracks and long-run conveyors to allow for rising, proofing or cooling of baked goods or dough
Safely and gently transports products to and from various production stages, including into and out of an oven or freezer or from processing to packaging
Food Safe Conveyors Quickly Transport

Frozen Foods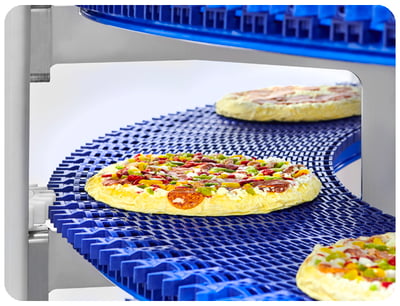 Our flexible, food-safe conveyors are ideal for moving frozen foods, including pizza, entrees, ready-to-eat meals, ice cream and desserts. The lightweight, plastic design accommodates foods both to and from the freezer and from processing to packaging.
Modular, plastic belting stands up to wet, frozen products and environments
Minimal harborage areas with belting, drives, rods and sprockets that allow water and product to flow easily
Open, accessible design cleans easily and stands up to washdown environments
Contact us to discuss how we can help design and integrate a sanitary conveyor solution that works for you.
How Can SideDrive Conveyor
Streamline Your Production Line?