4 min read
4 Ways Hygienic Spirals Address Food Safety Concerns for Protein Processors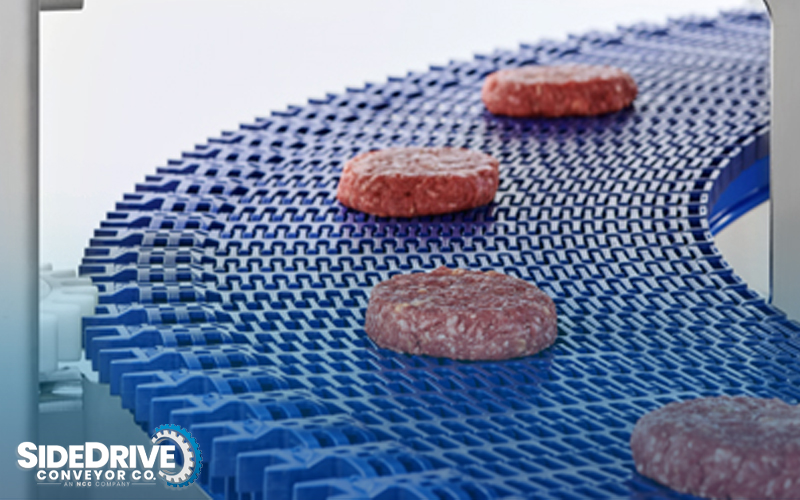 According to the CDC, "the incidence of infections caused by pathogens transmitted commonly through food" has steadily increased since 2015.[i]
In order to curb these incidences, several regulatory agencies have issued guidance for food processors. Hazard Analysis Critical Control Point (HACCP) plans are a "systematic approach to the identification, evaluation, and control of food safety hazards." [ii]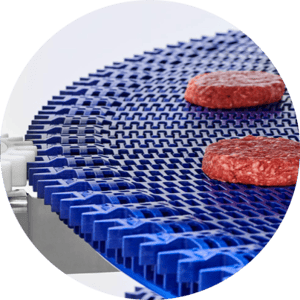 HACCP plans are required under the guidance of the U.S. Food and Drug Administration (FDA) and the U.S. Department of Agriculture (USDA) for meat, poultry and seafood processors.
Hygienic spiral conveyors are complementary to HACCP food safety systems and protect protein products from pathogens.
Discover these 4 ways hygienic spirals improve food safety for protein processors.
Hygienic Construction and Food-Safe Materials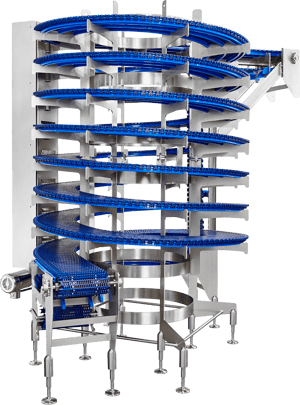 Sanitary protein foods conveyors are built with an open design and utilize non-hazardous materials that are designed to keep your products safe.
The edge-driven technology on side drive spiral conveyors allows for minimal drive usage. This creates an open, accessible, drumless design that eliminates harborage areas where bacteria can collect and contaminate your product.
Using plastic belting mitigates multiple potential sources of contamination that are possible with metal belting. With plastic, you eliminate metal shavings that happen as a result of metal on metal rubbing and wear. Additionally, it also eliminates the need for using lubricants that can leave behind hard-to-clean residue. Drive sprockets, also made of durable, USDA-compliant Nylatron, help reduce harmful harborage areas and are easily cleaned.
Timed Process Needs as Critical Control Points
When it comes to meat, poultry and seafood processing, time is of the essence. Sanitary protein foods conveyors allow you to implement settings that achieve and maintain conditions that assure the safety of products by keeping them within set critical limits. They can be used when an instance of time is needed between or during processes as a critical control point for protein processors.
For example, if your HACCP food safety plan requires your fish product to cool for 4 minutes after retorting and before case packing, our hygienic spiral conveyors can keep your product moving and provide those 4 minutes of cooling time. Or, if your meat product can only be exposed to certain temperatures for less than 10 minutes before it's packaged to prevent pathogenic growth, our sanitary spirals can ensure that your product is moved to the appropriate area before those 10 minutes are up.
This can help with:
Temperature maintenance and avoiding temperature abuse during fish processing
Meat and poultry stabilization
And more!
These settings help ensure the food safety of your products and can save you from potential contamination and recall.
To learn more about Critical Control Points and their role in HACCP food safety plans, visit the FDA's website.
Washdown Capability
Salmonella, Campylobacter and Listeria are some of the primary pathogenic culprits for foodborne illnesses caused by contaminated protein products.
According to the Penn State College of Agricultural Sciences Extension, "Dirty or contaminated equipment can contaminate otherwise safe food. Improperly cleaned equipment can be a source of Listeria monocytogenes contamination. Preventative maintenance and care of equipment is necessary to prevent equipment from transferring pathogens to otherwise safe food."[iii]
That's why thorough washdown and easy cleanability are essential to protein conveyors.
Hygienic features of SideDrive sanitary spiral conveyors make washdown more effective than traditional spirals. These features include:
Open, drumless design
Edge-driven belt
Sloped surfaces for easy run-off
Cantilevered, stainless, open-frame design
Plate frame structure easy for cleaning
Hygienic feet
Continuous welds to prevent harborage of bacteria
Welded standoffs that separate parallel surfaces
Solid UHMW wearstrips
Flexible Design Suitable for Hygienic Zoning of Protein Foods
When your operation requires hygienic zoning, the flexible design of modular spiral conveyors allows you to meet the requirements necessary to ensure the compliance of a particular zone.
The possibilities are endless with modular, plastic belting that allows for unique configurations to fit your facility and needs.
You can:
Move products up to and down form a freezer
Move products up or down between floors without lifts or elevators
Transport goods from processing to packaging areas
…all on a single transferless or spiral conveyor that's designed to meet the requirements of your HACCP food safety plan.
Sources:
[i]Centers for Disease Control and Prevention. (2020, April 30). Preliminary incidence and trends of infections with pathogens transmitted commonly through food - foodborne diseases active surveillance network, 10 U.S. sites, 2016–2019.
[ii] Center for Food Safety and Applied Nutrition. (n.d.). HACCP Principles & Application Guidelines. U.S. Food and Drug Administration. Retrieved March 3, 2022, from https://www.fda.gov/food/hazard-analysis-critical-control-point-haccp/haccp-principles-application-guidelines
[iii] Cutter, C. N. (2022, February 19). Control of Listeria monocytogenes in retail establishments. Penn State Extension. Retrieved March 3, 2022, from https://extension.psu.edu/control-of-listeria-monocytogenes-in-retail-establishments