5 min read
Hygienic Spiral Conveyors Designed for Easy Maintenance and Sanitization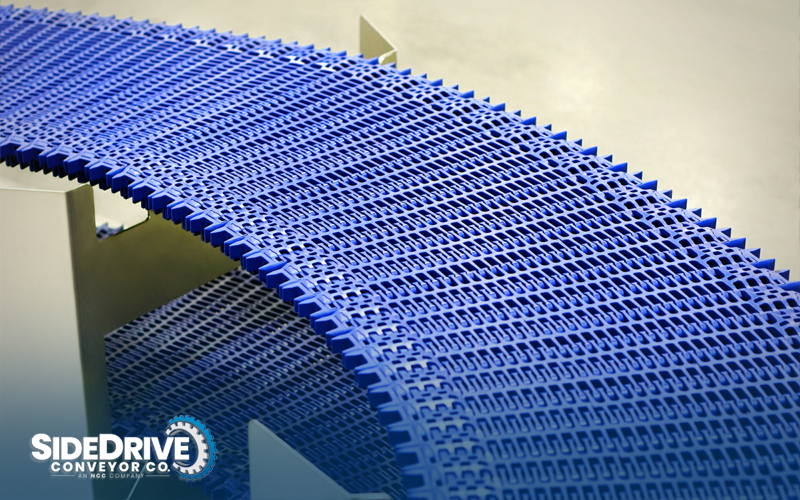 In food manufacturing plants, corporate and plant engineers are concerned with the easy maintenance and sanitization of their food processing and packaging conveyor systems. There has been a long-standing, industry-wide need for food grade hygienic spiral conveyors.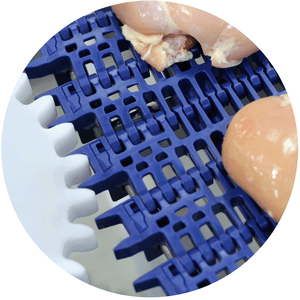 Food processing plant maintenance and sanitation managers, who are directly tasked with cleaning their plants' conveyors, want sanitary conveyor systems that can be easily and thoroughly cleaned, without the lengthy production downtime and costs.
Among food conveyor manufacturers, SideDrive Conveyor Co. is a world leader in configurable, sanitary helical conveyor solutions. In collaboration with Intralox, SideDrive Conveyor Co. has developed a revolutionary new system that facilitates compliance to food safety regulations requirements.
Our innovative and incredibly hygienic design makes conveyor system sanitization and maintenance less labor-intensive and time-consuming because the design permits easy access to all parts of the conveyor system. This smart, modular, edge-driven design makes any adjustments, repairs, or part replacements a snap.
SideDrive Conveyor Co.'s Design Ensures Superior Hygiene
Our state-of-the-art, industrial food grade conveyor system is designed to completely eliminate food harborage points. Our system utilizes Intralox's modular side drive conveyor belts, which are specifically designed to be edge driven. The belting is made using USDA-compliant plastic. Much of our drive mechanism is stainless steel, including all drive mechanisms (i.e., drives, rods, and sprockets).
Traditional belting surfaces could deteriorate due to abrasion. Other parts and mechanisms could sustain nicks and other damage to create retention points for pathogenic contamination, in addition to the pockets inherent to the design itself.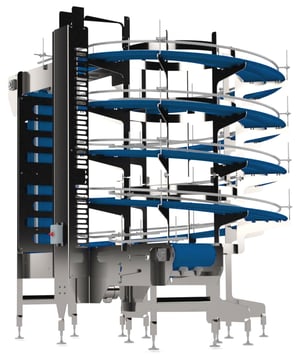 There are plenty of hygienic spirals and belts in the market. What we are doing is creating the cleanest version. We do this in four ways:
We use side driven belting, which allows for an open frame design in the middle

Our frame is cantilevered, leaving the outside open for easy access

Our frame design adheres to hygienic design standards

We utilize plastic belting, which is inherently cleaner than metal (i.e., no shavings, black dust, or need for lubrication)
There are conveyors in the world that have one or more of these qualities, but it is the fact that we do incorporate all of these design elements in a spiral configuration that is unique and exclusive.
Another benefit of this design is the elimination of pathogenic bacterial contamination occurring in residual lubrication found in metal-to-metal contact points in traditional systems. There are no high friction points that require lubrication.
You see, our side driven conveyor system doesn't have a single high tension drive or cage. We place drives where you need them by predicting points where the tension would be too high in a system, and placing a drive earlier in the system to make sure high tension doesn't occur. This spreads out the tension and is overall a much more maintenance and wear friendly solution.
These conveyors will stand up to high-pressure washdown environments, allowing for frequent, thorough cleaning to eliminate foodborne contamination. There are no inner cages or side frames to clean around — we've completely removed intense harborage points. For example, we have removed the harborage points associated with snap-on wear strips and plastic cage bar caps.
Additionally, the gear box and motor are fully manufactured from stainless steel and do not have to be covered during washing. There is no paint on these components to be eaten away by cleaning chemicals.
Our new conveyor design will help your plant meet the requirements of FDA food safety compliance audits. And your team will spend far less time (time is money) cleaning the system in between shift changes and production runs.
Liability Associated with Traditional Drum & Sideframe Conveyors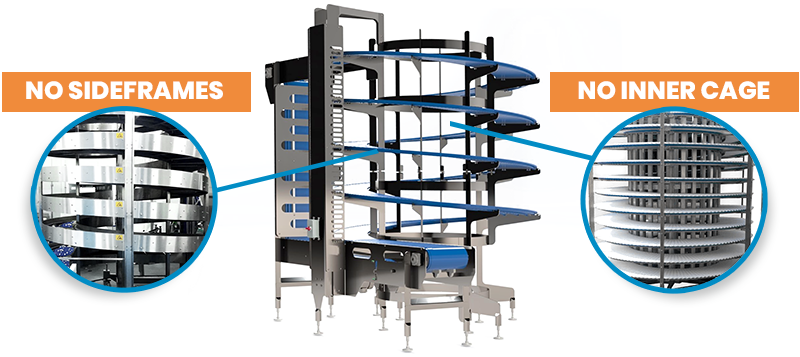 In the traditional drum and / or sideframe conveyor systems, food becomes trapped in harborage points, sometimes called pockets, which are inherent in the design. This contributes to microbiological food pathogens contaminating the food being processed.
It is both time-consuming and labor-intensive to clean these traditional conveyor systems. Also, it is almost impossible to clean this residual food from its inaccessible locations using manual cleaning methods without disassembling the unit, which is frequently done.
The result is that foodborne pathogens can be transferred to products. When that occurs, it leads to consumers getting sick. That, in turn, leads to the recall of weeks of production output and the closing of the plant until the contamination has been eradicated. The associated negative publicity can impact your company's reputation, damage your bottom line, or even lead to very expensive litigation.
Increased Productivity, Decreased Down Time, and Less Maintenance
SideDrive Conveyor Co.'s new hygienic system requires approximately half of the usual time and manpower to complete the cleaning cycle, when compared to a traditional, spiral conveyor systems. The savings achieved are proportional to the size of the system: the larger the system, the greater the savings on cleaning and maintenance.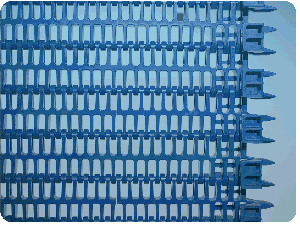 Additionally, the open and modular design of this hygienic conveyor belt means that any adjustments, parts replacement, or other maintenance can be done quickly, without need for time-consuming disassembly and reassembly. Every area of the system is immediately accessible.
Let's compare that to the traditional systems with a drum. It's almost impossible to clean inside the drum, because it's not open. Then consider a spiral with solid side frames, which has a multitude of harborage points to clean, because the overall design and excessive hardware contains so many nooks and crannies.
There is no need to manage overdrive, either. SideDrive technology never has an issue with one part of the conveyor system moving faster than another part — it doesn't happen. With the elimination of needing to manage the finicky overdrive inherent in drum style spirals, there is no belt-to-drum relative motion. There is no changing friction or wear on the inside edges of the belting. This eliminates the potential for damage to the belts.
Our innovative design has eliminated many of the problematic areas that typically result in maintenance concerns. Our design has no lubrication system, no sideframe, and no drum. It's so much easier, and decreased maintenance means increased productivity, less expenses, and fewer problems.
Cost Savings and Low Cost of Ownership
Our collaboration with Intralox has resulted in an innovative, easily sanitized, superior conveyor system. Our system eliminates the need for costly and time-consuming manual cleaning methods.
The helical spiral conveyor design streamlines production. The system can be optimized to meet your specific demands. With respect to sanitation requirements, reducing cleaning time means more uptime and more output. Our system can reduce your installation footprint, increasing dwell time and overall throughput. This can be achieved more cost-effectively with our system than with traditional systems, to facilitate your plant's changing requirements.
When compared to traditional spiral conveyor systems, our systems have a significantly lower total cost of ownership.
We would be pleased to discuss your current or anticipated needs with you. Please contact us for more information about how we can assist your company with achieving its productivity goals and maintaining its highest production standards.
Call SideDrive Conveyor Co.'s engineering team today at (267) 203-8355 or fill out our contact sheet. Also, be sure to follow us on LinkedIn.